Frequently Asked Questions (FAQ) about orthodontic treatment in Calgary:
If you just searched "orthodontist Calgary", "Calgary orthodontist" or "orthodontist in Calgary" and wanted to find out more about how to get braces in Calgary or Invisalign in Calgary, you've come to the right place. Let's start by answering all your questions.
Why should I get orthodontic treatment?
Everyone knows that braces straighten teeth but that's not all they do. Orthodontic treatment is recommended when the bite is misaligned and the teeth cannot bite together in a position that is healthy for the teeth, gums, and bones around the teeth. Crooked teeth and a misaligned bite can contribute to future dental problems like wearing, fracturing and trauma to the teeth, gum recession, bone loss, cavities, and possibly even jaw joint pain.
Why should I see an orthodontist in Calgary?
Unlike a general dentist, each orthodontist has treated hundreds of patients (maybe even thousands!) with problems very similar to yours. That's important because that means that they are not seeing or treating your problem for the first time ever in their life. When both Dr. Fatima and Dr. Fouad were in dental school at the University of Toronto, they each treated only 1 patient with braces. Yikes! That's not enough they thought. They loved orthodontics but their dental education did not provide them with the knowledge or experience to confidently provide orthodontic treatment. So they both went back to university for another 3 years to complete over 5,000 extra hours of dedicated, full-time training in only orthodontics. You're probably thinking yikes, that's a LOT of school! And you're right! Becoming an orthodontist isn't easy – it takes about 12 years of university after graduating from high school. It's exactly like how a cardiologist completed an extra 3+ years of specialized training compared to a family physician.  So trust your smile to a specialist. You only want to go through braces once.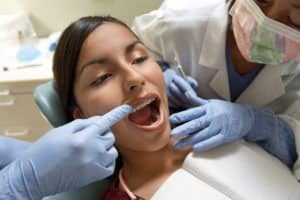 What are some other benefits of orthodontic treatment?
"Your smile is how you greet the world"… Dr. Fatima Ebrahim, Orthodontist Calgary, Family Braces
Orthodontic treatment can be a life-changing experience that will leave you or your child with a beautiful, confident, healthy smile that will carry you through life's biggest milestones like graduations, job interviews, and weddings – not to mention the occasional selfie!
Orthodontic treatment, at any age, can also dramatically improve a person's self-confidence. No one should have to go through life self-conscious about their appearance and afraid to smile. After all, your teeth and lips form the lower half of your face so changing them can change a person's entire appearance.
What are some problems that orthodontic treatment can address?
Spacing
Crowding / crooked teeth
Deep bite
Crossbite
Excessive overbite
Edge-to-Edge bite
Open bite
Narrow smile
Underbite
Missing teeth
Extra teeth
Habits (ie. Thumbsucking, tongue thrust, mouth breathing)
Ease of cleaning
Difficulty chewing
Jaw discrepancy
Chin asymmetry
And many more!
What are some of the long-term effects of crooked teeth and a bad bite?
Crooked teeth and a misaligned bite can contribute to future dental problems like wearing, fracturing and trauma to the teeth, gum recession, bone loss, cavities, and possibly even jaw joint pain.
But the effect of crooked teeth can be much more profound on a child's emotional and social development. A recent study published in 2014 reported that approximately 47% of children undergo some degree of bullying and that teeth were the number one feature most often targeted by bullies, followed by strength and weight. The prevalence of children being bullied due to their teeth is much higher than any of us would expect and according to many studies, depression, physical health problems, and reduced academic achievement are just a few of the negative effects bullying can have on children. And with the advent of social media, these social pressures are only getting worse.
How do I find out if my child needs orthodontic treatment?
Getting an expert opinion from one of our Calgary orthodontists as to whether you or your child needs braces is easier than you may think! No referral is necessary. Simply book a free orthodontic examination online or give us a call at 403-202-9220.
At the examination, our orthodontists will take a full set of orthodontic records including photos, x-rays and a 3D digital scan of your teeth.  There is no charge for these records as they are essential for our orthodontists to make an accurate diagnosis so that they can properly plan you or your child's orthodontic treatment.
Once a you or your child has had an orthodontic examination, our orthodontists will provide you with a list of all the orthodontic concerns and possible treatment options. You will also have an opportunity to talk to them about any concerns you may have (ie. Crowding, gaps between teeth, overbite, etc.). Our orthodontists will then explain their treatment recommendations as well as discuss pricing and financing options.  The total appointment will last 1 to 1.5 hours. In many cases, braces can be put on the same day if time permits.
If you are looking for an orthodontist in Calgary, visit Family Braces for a free no-obligation consultation. (link)
When is the right time to bring my child in for an orthodontic exam?
It is recommended by the American Association of Orthodontists that parents bring their children in to see an orthodontist between age 7 to 9 for their first orthodontic check-up to ensure that all the permanent teeth are developing and coming in properly.  At Family Braces, this check-up is free and in most growing kids, orthodontic treatment is typically not indicated. However, there are some cases where interceptive treatment can help avoid complications like extraction of permanent teeth or jaw surgery in the future.
What is the cost of orthodontic treatment in Calgary?
The Calgary orthodontists at Family Braces hate seeing kids go without treatment due to finances so we try to do whatever we can to make braces affordable and convenient.  The cost of braces for over 90% of patients at Family Braces is $5,500-$6,500 for full orthodontic treatment, and this includes the cost of orthodontic records (3D scan, photos, and x-rays), the braces, all orthodontic adjustments, upper and lower retainers, and 12 months of monitoring after the end of treatment. Our price of braces is all inclusive – there are no hidden fees at all!
When inquiring about orthodontic fees from other clinics, be sure to ask if you will be receiving treatment from an orthodontist and what additional fees they charge for orthodontic records (3D scan, photos, and x-rays), retainers, and/or post-treatment monitoring. These fees can quick add up to hundreds or thousands of dollars.
At Family Braces, we understand that orthodontic treatment is expensive and a big investment for you and your family – something that you only want to do once and do right. We will do everything we can to educate you about the treatment so that you can make the best decision for you or your child.
What is the cost of interceptive orthodontic treatment in Calgary?
At Family Braces, interceptive orthodontic treatment (ages 7-10) typically costs about $1,500 to $2,500.   It may consist of a palatal expander, space maintainer, growth appliance to promote lower or upper jaw growth, extraction of baby teeth, and early braces (on the front four teeth).   Each child is different and we cater our treatment recommendation to you and your child's individual needs.  After interceptive treatment, full braces during the teenage years are often easier, faster, and less expensive due to the reduced complexity. At Family Braces, you will receive a credit of your interceptive fee towards the cost of full braces. Our Calgary orthodontists provide this as a courtesy so that cost does not have to be a consideration in getting your child the treatment they need when they need it the most.
Do I need a referral to see an orthodontist in Calgary?
No referral is needed to see any of our orthodontists in Calgary. The first appointment is free and includes a full set of photos and x-rays so that our Calgary orthodontists can truly assess any problems that might be present in both the teeth and also in the jaws that hold the teeth. Simply book a free orthodontic examination online or give us a call at 403-202-9220.[/fusion_text][/fusion_builder_column][/fusion_builder_row][/fusion_builder_container]
References: